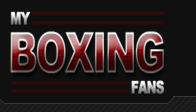 It was a knockout night for a spirited group of former champions, prizefighters and boxing aficionados at Saturday's Goossen Tutor Promotions "Boxing Before Dark" fight night held at the Citizens Business Bank Arena in Ontario, Calif. Here's my exclusive report on the Golden State Boxers' Association (GSBA) gathering at the HBO card featuring heavyweights Chris Arreola vs. Bermane Stiverne in a WBC elimination bout.
The local GSBA crew were the special guests of promoter Dan Goossen, who has known many in the group for years. The veteran promoter had attended the recent GSBA awards banquet where his former champions Gabe Ruelas and Rafael Ruelas received recognition for their ring accomplishments. It was at this luncheon that Goossen invited the Golden State group to come out to the April 27 fights. New GSBA President Bill Dempsey Young and his wife LInda Young both told me what a gracious and generous offer this was by Dan and that they were very honored by this invite.
The Youngs have long been involved in boxing; Bill's father is famed referee Dick "Tiger" Young and Bill and Linda's on RC Young is an amateur fighter.
And it was a KO crowd as the GSBA members congregated outside the venue before heading in to catch the action.
"It was a great day!" everyone on the GSBA team said. The organization meets every Tuesday in Hollywood but this past weekend was a very special time for all as they actually got to watch live boxing together as a group.
It was also a reunion of sorts as I watched many of the members reconnect. In between the matches, the fighters were officially introduced to the audience at the Citizens Business Bank Arena. They also displayed the Golden State Boxers' Association banner as each name was announced. Bill Young just became the new president of the GSBA when longtime president Larry Montalvo recently stepped down from the post. Both men have a mutual love and respect of the fight game and vow to continue having GSBA get-togethers, events and gatherings where they celebrate the sport. Bill and his wife Linda were joined by many boxers, family and friends at Saturday's bash. The San Fernando Valley couple said they were thrilled to have such a great turnout of approximately 150 invited guests, courtesy of Dan Goossen and Goossen Tutor Promotions.
Linda gave me an update of the veteran fighters and special VIP guests that were in attendance. "We had so many boxers there including Gabriel Ruelas, Rafael Ruelas, Armando Muniz, Oscar Muniz, Albert Sandoval, Ruben Castillo, Mike Weaver, Art Frias, Frank Duarte, Bobby Chacon, Danny Valdez," Linda says, "also Rodolfo Gonzalez, Paul Gonzales, Roy De La Fuentes, Paul Banke, Zack Padilla, John Montes, Herman Montes, Alex Ramos, Andy Price, Abe Gomez and Robert Ortiz." Famed jockey Laffit Pincay Jr., football player Efrain Herrera, WBC Supervisor Joe Noriega, Trudie Latka, Carol Steindler and Marv Enquist also joined the boxers. I also saw former fighters Ronnie "The Dragon" Essett and Tony Bellard at the fights, and World Boxing Council (WBC) President Jose Sulaiman and WBC Supervisor Rudy Tellez were also represented at the Goossen Tutor card where the fans witnessed stunning knockouts in the co-feature bouts as well as a 12-round battle between Bermane Stiverne and Riverside's Chris Arreola. After the matches, uncrowned welterweight champ Mando Muniz said he really enjoyed seeing everyone and thanked Bill and Linda Young and the Goossen family. Former WBC Bantamweight Champion Paul Banke also told me what an exciting day it was for everyone. "I got to see everyone and catch up with the other fighters, thanks to Dan Goossen" a smiling Banke said. "This was so cool of him to do this for everybody; it really brought everyone together!"